Google and other search engines keep updating its algorithms, ranking strategy, and everything. Besides, whatever changes happen, the one thing being consistent is optimizing websites for the user's search query.
It is nothing but, the keyword. For which, all you need to do is the proper keyword research. In this article, let's see how to do such in-depth keyword research for SEO.
Understanding Keyword Research
Keyword research is the process we undergo to come up with the most potential keywords which your target users enter into the search engines. These are the list of keywords which you want to rank for.
Keyword strategy is the decisions you are taking concerning the results obtained from keyword research.
We all know that 'keyword' does not refer to a single word. The term keyword we use is a phrase that contains multiple words. Based on the length, you can vary it as a short tail or medium tail or long tail keywords.
Generally, long tail keywords would be more specific about the topic. And it is easy to rank for long tail keywords, comparatively.
LongTailPro would be the best tool that you can use to handle your entire keyword related tasks. You can cherry pick the most potential primary keyword and relevant LSI keywords.
Here are the few keyword metrics for your basic understanding.
Search Volume refers to the overall search demand of a particular keyword. i.e., how many times people use it as a search query in the search engines?
Keyword Difficulty denotes how hard it is or what are your chances of rankings for the given keyword.
Keyword Potential lets you know how likely the particular keywords can get you more traffic. Search volume and clicks can determine the keyword potential. But, there are other factors too like LSI keywords that impact traffic.
Cost Per Click is the commercial intent value of a keyword that undergoes variations every minute depending on the search demand fluctuations. Advertisers use CPC valued keywords mostly than SEOs.
Note: Even you have a potential keyword for which you can rank at the top. But, it is not sure that clicks will happen.
Since, there are few other SEO terms like knowledge cards, rich snippets, shopping results, image packs, etc., By which, people can get their answers without even clicking your results.
Why is Keyword Research Important for SEO?
Only through proper keyword research, you will get to know what your search terms your target audience uses. There is no meaning in optimizing your websites for the search terms or keywords that people don't use.
Moreover, keywords are the key to know your user's search intent. Providing them with the solutions what they are looking for is the real optimization that organic traffic.
Hence, proper keyword research is significant to rank your websites for the potential keywords that your target audiences often use. The search engine optimization refers to the same.
It is likely to optimize your websites or blogs for the specific keywords. Ultimately, if you want to boost your SEO, you must do in-depth keyword research before creating content.
How to do in-depth Keyword Research?
Before getting started with core keyword research, you must get clear with the below terms.
Your Blog or website's niche topics
With these understandings, you get ready to start with your keyword research. Here, I am breaking down the phenomena into four steps.
#1 Creating Seed Keywords list
Seed keywords are the basics for your keyword research. It's all about your brand or niche products and how it can serve your users.
Creating a list of seed keyword is not too tough if you are master in your niche. It is nothing but the term what public refers to search your niche.
You can do some basic groundwork to come up with seed keywords. It includes researching your audiences, finding search terms in use currently, etc.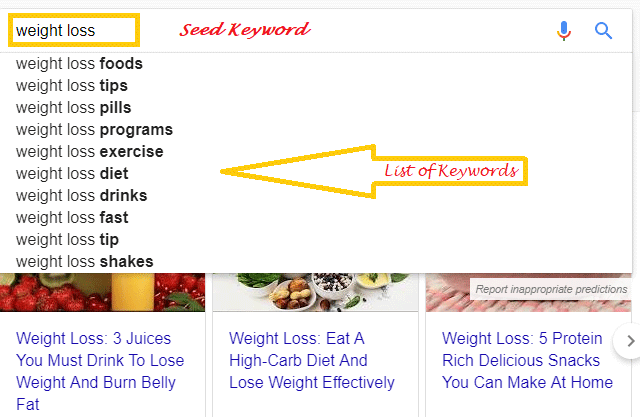 #2 Building List of Keywords
The very next step is to gather a list of keywords based originating from the seed keywords. To be precise, seed keyword + modifiers are the lists of keywords you want to list.
In the above image: weight loss foods, weight loss tips, etc. are the list of keywords generated.
Similarly, you might have multiple seed keywords depending on the niche. For every single keyword, you can get plenty of keywords. Group the keywords based on the most relevancy, keyword length, language and location, and more.
#3 Refining based on metrics
Here is the most crucial process. Refining or filtering the potential keywords from the lists can get you the desired results.
Considering the various keyword metrics, you will have to sort out the potential keywords. Here, the keyword research tools come into rescue.
It includes Google keyword planner, LongTailPro, Keyword Revealer, MOZ, SEMRush, etc. I prefer using LongTailPro for my in-depth keyword research.
The typical formula that works well is: the keyword that is medium search + average keyword difficulty + long tail = Top Ranking.
With that, here you can choose your focus keyword as "natural weight loss remedies."
Here I am sharing you a keyword overview image from SEMRush for the primary keyword weight loss foods. The primary or the focus keyword is the one which you want to rank for often when a user searches.
With that, you can find related keywords or LSI keywords to spread it throughout your content. By which, your post or page will rank for multiple keywords. There are many free keyword tools which you can get help with.
#4 Performing Competitor Analysis
Your competitors might have already done with these keyword research works for you. You can merely leverage it. You can use tools like Ahrefs to research keywords for which they rank for. Just pick the best ones.
If you are not clear about your competitors, enter your seed keyword into the Google search box. Those who are ranking better on the front page are your competitors.

Designing an SEO-friendly and professional website is crucial. Still, the quality content optimized with the potential keyword is most essential.
While completing these four steps, you will have your most potential main keyword and list of related or LSI keywords handy. Scatter LSI keywords those into your content and placing your focus keyword wherever necessary (suggested by Yoast plug-in).
Final Words
I am aware that keyword research is a wide topic in SEO and SERP ranking. However, in this article, I have just shared the overview of the keyword research, it's metrics, and how to do in-depth keyword research. Hopefully, with this article, you can come up with the most profitable keywords.
I would suggest you prefer a single keyword research tool for picking your keywords. Then check its performance and metrics on other tools.
Also, don't try to stuff your keywords in the content. Google doesn't like it. It is not recommended, and you will get penalized, then.
Guest Author Bio: Sathish Arumugam, is a passionate Blogger, Trainer, and a Digital Marketer. He is the man behind Traffic Crow and SGS Mediasoft. Traffic Crow is an upcoming blog that frequently comes with informative posts, interesting interview series, and expert roundups to serve its readers best forever.