There are several graffiti fonts around, hence finding the best free graffiti fonts for graphic works is always being tricky.
Graffiti fonts probably not the best font for blog posts, but definitely designers love those for creating many things.
Graffiti fonts will dominant the typography world with its urban vibe and uniqueness. With its embellished outlines & colors and vivid, they are ideal for eye-catching the attention of spectators, readers, and viewers.
The graffiti fonts with its design traits will become more legitimate to utilize the advertising campaigns.
These fonts parcel and part with its ability to rely more on evocative and invoking emotion for provocative with shapes and images.
Recently, the Graffiti fonts have gained more popularity and recognition in terms of an art form rather than utilizing the urban menace.
This assisted the users to use a wide range of graffiti font resources over the web. These fonts are really cool and more creative to appear and helped with their popularity.
---
Graffiti Fonts – Different Types
Based on the genre, there are numerous types of graffiti fonts or forms available across the online platform for your reference:
a) Piece
A piece is a picture style that can be easily painted using a freehand. It will longer time for painting and includes at least 3 different colors. A piece can assist the artist to gain respect and individuality from other artists by wall painting on illegal graffiti with greater risk.
b) Slap or Sticker
A sticker or slap could be easier to execute and also a downsized poster. Most of the stickers are elaborate and easily tag on the postage labels.
c) Paste-up or Poster
A poster or paste-up is an easy and quick method to put up the pieces. Prepare the piece and easily paste the same wherever you required.
d) Stencil
A stencil is another best method to put up the required detailed pieces. Just spray over the stencil to provide a detailed piece rather than performing on freehand, which is a repeated process.
e) Heaven
A heaven is an artwork or a tag that is extremely tough to create. Any artist who can manage to utilize this graffiti style will gain more respect from others.
f) Wildstyle
Wildstyle is another elaborate throw-up version and very hard to read. This style will offer numerous spikes, curves, arrows, and even other things that may not be understood by the non-graffiti artists.
g) Blockbuster
The Blockbuster style will be in block letters along with a massive throw-up style. Within a small amount of time, you can cover the wide-area by using the Blockbuster style. You can use rollers to paint the Blockbusters with easier and faster to perform.
h) Throw-up
A throw-up style is compared to a complicated tag style. It has bubble-style lettering and includes various colors. Similar to a tag, you can repeatedly and quickly perform the throw-up style.
i) Tag
Tagging is one of the simplest and easiest graffiti styles that include the identifier, artist's name, or one color. It is not respectable to draft a tag on another artist's work or tag.
---
Best Free Graffiti Fonts
Find below the list of the best free Graffiti fonts that you can use for your design:
Fibre
Fibre Graffiti font is one of the best handwritten and all-caps (Uppercase) fonts with the scratchy & wild feel to it. They are specially designed with font metrics and kerning to offer an easy and clean reading experience. However, they are not the case of different styles over the substance. This font was created and designed by Wild One's Design of Latvian Studio. The free Fibre font can be used only for personal use by providing a valid email address to download the font.
---
Polla Graffiti Font
Polla Graffiti font is designed and created by Juha Korhonen. It is one of the best wonderful messy brush fonts soaked with splatters & smudges to bring the real text life. You can use this free font only for personal projects and need to pay $20 for commercial use.
---
Knight Brush
Hendra Pratama designed Knight Brush font using hand-painted signage and also the vintage era inspired. This font is a bold choice and adaptable for resembling the real & best brush strokes. The free version of Knight Brush font can be used only for demo (personal use) and processes the payment ($15) for downloading to use for commercial purposes.
---
Vindica Rebel Brush Font
The perfectly paired and bouncy baseline of complimentary marker Vindica graffiti font will provide the retro style along with handy bonus swashes. This brush looks so amazing. This font was created with moody expressions and good glyphs involved. Thankfully available for free to download.
---
Urban Decay
Urban Decay is another handmade brush font, which was created & designed by Zofos to offer inner-city living, street calligraphy, urban exploration, and celebrating graffiti. These best graffiti fonts can provide the rugged authenticity to bring your projects with an urban feel. You can download this font for free and even donations are also welcome.
---
Gang-Bang Crime
Gang Bang Design Graffiti font is one of the best fonts available across the online platform and downloaded by numerous users. This font is designed by Maelle Keita and the best-suited for poster, banner, heading, street, etc. The Gang Bang Design will provide two different types of sensational style filled with & without dripping paint. This font can be downloaded for free only for personal use and need to purchase a license for commercial use.
---
Damsterdam
Damsterdam Graffiti font is designed by Juha Korhonen. This heavyweight all-caps (Uppercase) font is created with staggered, crooked, rough brush strokes, and thick letterforms full of energy. When compared to the Polla Graffiti font, you can use this free font only for personal projects and need to pay $20 for commercial use.
---
Grizzly Attack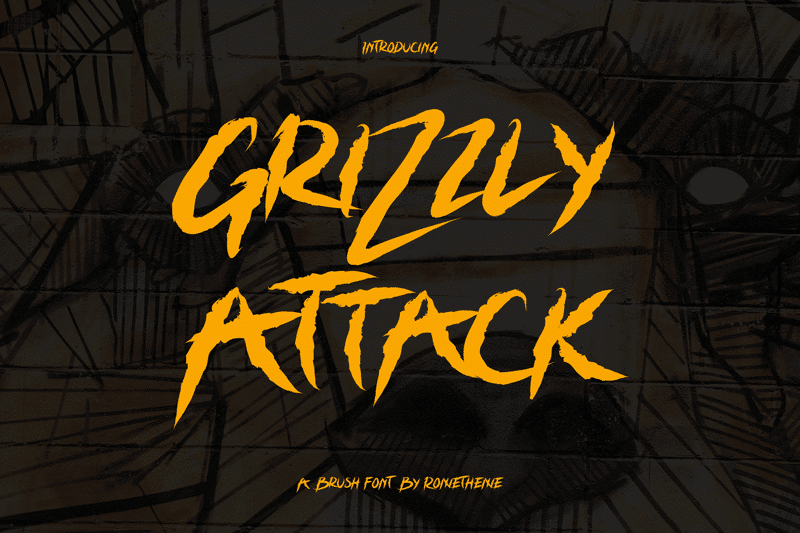 Grizzly Attack font with rough & torn edges will appear like out of control and wild. The font's dramatic strokes will be a perfect choice for social media content or posters. Due to the font's intensity, the Grizzly Attack font could be the best option to utilize in moderation.
---
Hosp Graffiti Font
Each letter listed under this font style will describe a story. This Hosp font will provide an overwhelming and heady style, which is perfectly packed with a punch for your designs. This artistic and gorgeous font will create a real impression when utilized in moderation.
---
Sister Spray Font
The Sister Spray Graffiti font is created and designed by ImageX. You can easily mess with this ready and fantastically rough font. It is specially designed with an entire set of spray-painted all-caps (Uppercase) letters along with the emphasis of lower-case letters as well. It can provide the complete look by using some strokes, splodges, and splatters as well. This font can be downloaded free only for personal use and need to contact ImageX to purchase a license for commercial use.
---
Shortcut Font
Shortcut is another roughest Graffiti font that looks & feels similar to a painted font. This could be an ideal graffiti typeface and even the lettering is uneven & ragged. This free font includes 256 glyphs and it will be easier to showcase your designs.
---
Youth Fury Font
If you prefer to display the Vandalistic Graffiti's original style then make use of the Youth Fury font to summon the disaffected youth spirit. This font was illustrated and designed by the Colombian Graphic designer Luis Jaramillo. You can download and utilize this free font only for personal use.
---
Humger Font
If you prefer to include any textures to your Humger Font, then it provides numerous options of its own. The grunge typefaces with its distinct jiggle are available with all-caps (Uppercase) along with the appearance inspired by its stencil graffiti. This urban font could be an ideal one for social media, textiles, and print.
---
Brux Brush Font
Brux is another brush graffiti font that includes both stylistically distressed and geometrically rigid to make it ideal to provide the graffiti-themed projects. This Stockholm work was designed by Marcelo Reis Melo (Art Director) and includes Spanish, German, and Swedish characters. This font can be used free for both commercial and personal use. You can provide donations to utilize for commercial purposes.
---
Streetwear
Streetwear is a stylish retro and bold script-based typeface font suitable for T-shirt designing, packaging, branding, poster, and logo designing. It is similar to a classic sport & fashion-related typeface with fun and unique simultaneously. This Streetwear's alternative characters can be easily accessed with the help of OpenType Savvy applications like InDesign and Adobe Illustrator.
---
Broken Wings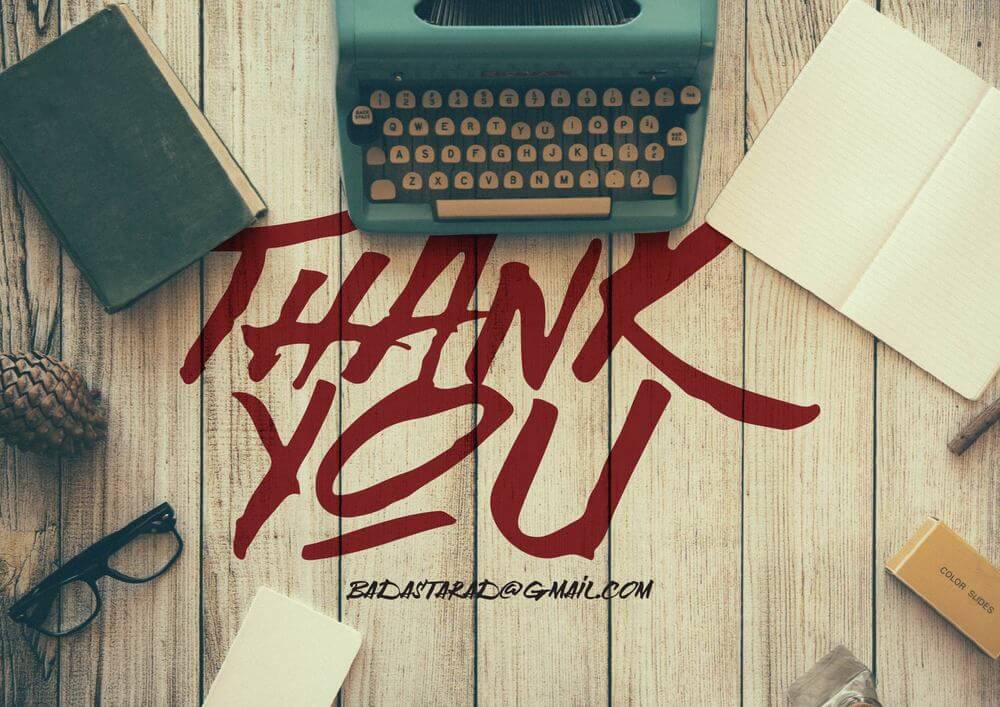 Broken Wings is one of the best fonts created to utilize for dramatic and large designs. The all-caps (Uppercase) typeface will vary with numerous thicknesses and also uneven edges will provide difficult characters for finding the fonts. The Broken Wings with graffiti roots will offer the best elegance to make it more extremely versatile.
---
Extreme Travel
Extreme Travel graffiti-style font is created and designed by Colombian Graphic designer Luis Jaramillo. The inventive appearance with a white lettering stencil will offer the splattery and spray-painted background. The free demo graffiti font can be downloaded only for personal use.
---
Flow Brush Font
This graffiti font style is another gorgeous example to combine the brush painted text smoothness and traditional spray-painted text with ragged edges. The Flow Brush font could be a perfect option to utilize for printing and social media posts.
---
Ever Looser Brush Font
Ever Looser Brush Font is one of the wild-looking brush fonts and can make the creators addicted to using it. It contains a distinct texture and is adorable. The ever looser brush can be used to create huge banners and relevant stuff. As it has the capability of grabbing people's eyes, so creativity can bring it to the right place.
---
Metro Grunge
Metro Grunge, the free graffiti font designed and created by Peter Olexa (Slovakia, Bratislava). This underground font (both actual and metaphorical) is energized with fizzing and available for free to use both commercial and personal.
---
BlowBrush
The BlowBrush Graffiti style font is another handwritten marker inspired by the graffiti community and hip-hop culture. The main intention of this font is to provide your content with street style and top priority to the font functionality. The wider audience will utilize it to get better results like numerous variations, clear type, and legible letters.
---
Black Top
The Black Top Graffiti font will provide more legible and cleanliness to its content. This handwritten marker font will provide various bonus elements, stylistic alternatives, and ligatures to offer the best appearance for your designs.
Which one was the best graffiti font according to you?