Is having Organic traffic means you a lot?
Well, certainly it is! but how?
Increase your rankings in search engines and boost organic traffic.
Is it that simple? SEO could be a painful task but at the same time could be easier as tossing a coin if done in the right way.
Yeah, I do believe keyword research is the foundation and more than half of the SEO. What do you think?
With respect to any website niche, finding profitable keywords should be always the primary goal. As no wonder, decent keyword research is always going to be vital for any website growth.
We need to accept the fact, that there is no secret sauce or magic to get organic traffic. It's all about finding relevant keywords of your blog niche.
---
Why Keyword Research
Only great keywords can make your website SEO visibility better. It's all about the right keywords, right traffic! 
But, yeah it takes a lot to find those keywords which could perform. This is where the great keyword research tools make things easier.
And if you are a blogger, then finding and sprinkling those LSI keywords throughout the content should be the priority to rank your pages in the SERP's. You do so too? 🙂
Of course, Along with great content and backlinks, On-page SEO will be remained as the key aspect to boost the website rankings.
In this post, we will look into how a robust tool like TwinWord helping in narrowing down the search of keywords and eventually help boost traffic.
---
Keyword Research the right way with Twinword
Let's hop into and see how this tool helps us find the most relevant and profitable keywords for you. I have been using this for some time now and was certainly been helpful to find out the best.
It is basically a Powered with AI and perfectly blends of Machine Learning and Human computing tool. and that makes me share my view about this robust. And that makes it find and filter the useful keywords according to the intent.
Probably the first keyword tool which allows you to find keywords with the user intent. Sounds Cool?
Obviously, the user intent of the keyword matters a lot.
Few highlights of this Robust keyword tool, which separates it, from the rest.
User Intent Filter
Keyword Relevance Scores
Import Feature
Awesome LSI Graph
---
Get Keyword Suggestions
It's simple like any other keyword tool in the industry, just put the desired keyword choosing your targeted country and hit Enter.

This will take a while to gather all the keyword suggestions and its whole bunch of statistics like relevance, competitiveness and more.
Once the process is done, it will explore a bunch of keywords along with the search volume, organic and Adwords competitions.
---
Twinwords Sorting Options

Search Volume – Overall searches for that particular keyword every month.
Organic – this is basically the statistics where you would be able to see how many websites are competing for the same keyword within 1 – 100. More the competition level is harder to rank for it. So choosing keywords with fewer competitions is the way to go. Obviously, another ranking factor too has to be into consideration.
Tip: Competition below 30 always takes fewer efforts to rank
Paid – Adwords competition data is going to be really useful if you have a product or services business.
---
Relevance Keyword Scores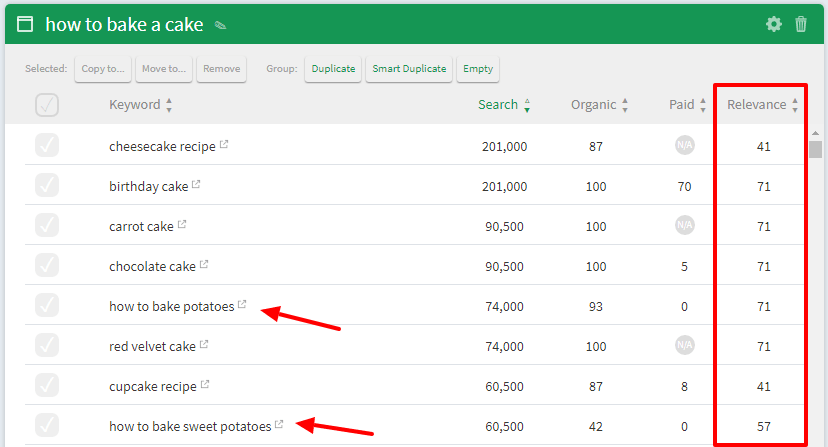 Well, generally all the keywords will be sorted according to the higher search volume. And due to that, as usual with other keyword tools as well, there might not be few phrases might not be relevant enough as it can be seen in the above image.
For instance, we have searched for "how to bake a cake" But, few keywords extracted as "how to bake potatoes" and "how to bake sweet potatoes", which probably are not relevant with our seed keyword at all.
So what's the deal?
We, need to make sure the keyword relevancy is closer to 100 to eliminate such keywords and extract which suits the best.
To do so, click on the relevance and it will sort the best ones.
There you go, we got the magic. 🙂
Here, the sorted keywords are 100 relevant, to the main keyword. This doesn't mean that you have to pick these keywords only. We can use other filters like organic and pay as well.
If you are looking to rank your page on Google first page, sort the data with Organic filter and pick those which are low competitive. Lower, the best ones(easier to rank).
---
User-Friendly Interface
The user interface doesn't just look good it easier to use as well. Traditionally we do such keyword research and download those in an excel file to filter and remove the unwanted ones.
Just, select the keywords and perform the actions Copy, Move and even Remove.
Here the keywords can be removed from the tool itself. Remove, save your search for further uses in Groups and as Workspace as well.
Yes, you hear it right! Although for obvious reasons there is a feature which allows you to download keywords as an excel spreadsheet as well. But, probably you don't need it.
If you are looking for more advanced filters to get the right keywords for your content, then you have chosen the right tool.
---
Robust Filter Options
There are several scenarios while performing keyword research, I wanted to extract keywords thinking of the user intent, perspective as the tools were not able to do so.
But, have you ever thought a keyword research tool can even extract keywords thinking of the user intent?

Let me clear this further what I meant, The tool offers five user intent filter, anyone would fall in love with those. As it eases the whole process.
---
User Intent Filters
Know – Switching this on, would basically filter all the information keywords
For instance, "how to build backlinks", or "how to make a good website" and so on.
If your blog is about how to guides, you will love this.
Do – This filters out, the transaction keywords.
For instance, "Login to Gmail", or "watch cover songs on youtube" and so on.
Buy – This is awesome and one of my favorites as switching on will show all the keywords, where users want to buy something.
For Instance, "Best laptops under $1000" or "best keyword tools" and so on.
If you are selling something through your website or having niche blogs probably this is gonna be your friend.
Local – As a name, these filters are used for all the local searches.
For instance, "SEO company in Newyork", and "movie theatre near me"
Web – This probably not that useful according to me, although if you want to exclude navigational keywords you can let it switch off.
For Instance, "Gmail" and "QuestionCage" and even"Facebook"
I really loved this robust filter options to simply my whole keyword research process.
---
Import Keywords Into the Tool
It can be understood that, if you are in the internet industry then you might have some competitors in your own niche.
And if you do, then it quite obvious that you might have done competitor analysis and be knowing what keywords are they ranking for.
If you have already grabbed those keywords, then its time to import those into the tools and find the best keyword suggestion for those.
Choose Import Tab
Paste those keywords (one keyword per line), as shown in the above image.
Choose the country, you want to target for,
Finally hit the Analyze button.
Just like earlier within no time few relevant keywords will be extracted along with its statistics.
---
Trending keywords
Sounds unique, a keyword tool with trending keywords. That means it will show up the keywords which are being used in most of the content and people are loving to read those.
Doesn't matter what niche, although you can put your own keyword into that to find the trendy ones around it.
For instance, here I have input "Donald Trump" and it shows all the relevant ones to it.
Although the graph view looks awesome, just in case if you would like to use it in the list view, can also be done to grab the keywords swiftly.
Apart from that, this awesome keyword tools also shows up the trending tweets with that keyword. Isn't it unique?
You would certainly understand the meaning of it if you have ever done keyword research with social media platforms. For an instance Reddit, Twitter is few among those.
---
Easily get LSI Keywords in Trendy Graph mode
I don't have to say, how useful LSI keywords are for your content. After the Google's update against keyword stuffing could hurt any website or blogs growth and could also lead penalized LSI keywords came into the trend.
As Google's algorithm started working on serving the best to the users by making sure they are getting the more relevant pages to their query. Not just the phrase they are looking for, hence keyword stuffing has been reduced which makes sense.
The LSI Graph tab shows all the relevant phrases for you keyword which makes it easier to write the content around too. and similarly, on the right pane, those words will be displayed. This could be the gold mine for any SEO'er.
---
Final Words On the Twinwords
This tool extracts the search volume from Google and provides a good idea of the overall volume. I did like the relevance and competitiveness which they have shown in the tool.
Not to forget the robust filter options with user intent which cannot be seen in the other tools so far. This makes it stand out from the queue.