Never in the history of mankind has there been a better opportunity for the average business owner to grow and improve their business.
No matter if it's a small or large business they all have an equal chance of success in this day and age if they know what to do that is.
Overall the playing field has been leveled and every business and I mean everyone has a shot at being number one for that million dollar keyword. Think of it as a game of chess even the small pawn can take down the queen with the right moves.
So what is this magical thing that has made it possible for you? Yes, you reading this…. No fooling the internet… Yeah, that thing well search engines but you get the picture.
So What is SEO and WHY is it Needed?
In an ideal world, every business owner would know about the importance of SEO and what it stands for.
But unfortunately we are far from an ideal world and a lot of people still haven't a clue what search engine optimization is or what it is capable of.
Long gone are the stone ages where businesses would fork out thousands upon thousands of dollars for a prime time tv ad. Bend over backward to get a color ad in the local newspaper or guide.
People still using these methods really are not looking at too much success and chances are they won't be around for much longer.
Search Engine Optimization or SEO is the process which a website is taken through once which will be positioned on search engines like Google for keywords relating to that website.
You might be thinking, "Well, that all well and good but how does it grow my business?".
So let's look at search engines and the most popular one of those is Google. We know for a fact that 93% of all internet usage starts with some sort of search for something.
Now let's look at another important fact like how many people use the inter-web?
This may shock you but as of today, there are 4.2 billion internet users worldwide. If we look back at the fact that 93% of internet use starts with a search that's 3.83 million approximate people using search engines every single day.
If we look at Google live stat here we can see that on Google 3.4 billion searchers are happing every day and counting. SEO helps you get your business/product/service in front of these 3.83 billion people.
Now let's be a bit more down to earth, let's say you are the owner of a dental practice in Adelaide go and search "dentist Adelaide" we can see that about 7,700,000 results have been found but only 10 are on the first page.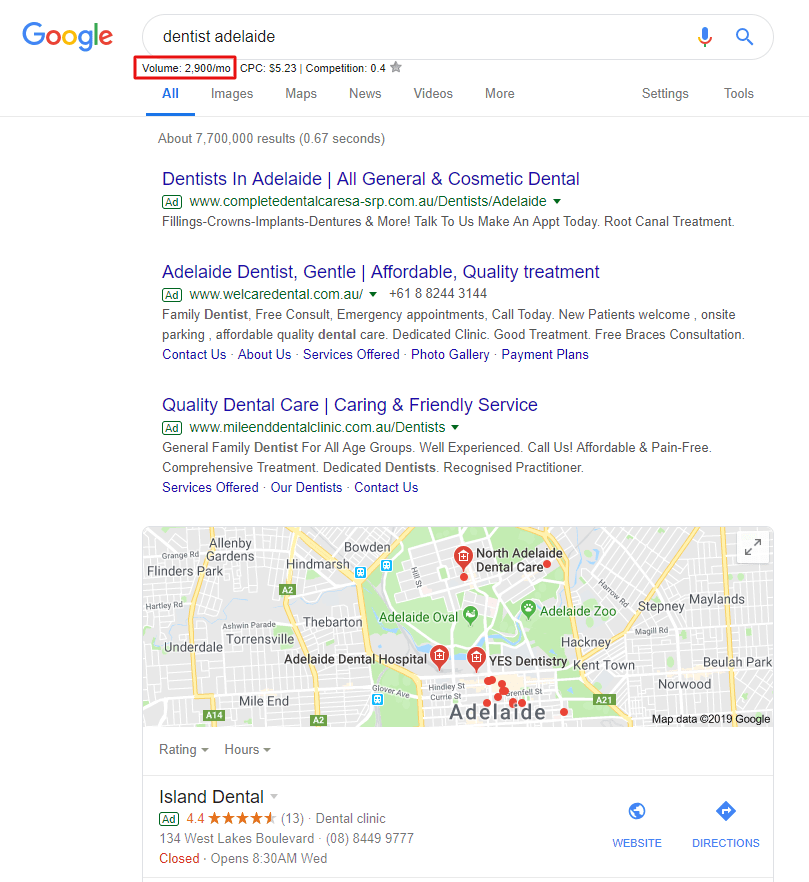 If someone owns the first listing (not ad listing we all skip those) and other people own those other seventy thousand. And according to Google about ¾ of people never go past the first page of Google.
So even on that first page without one of the top the positions you're looking at less than 5% of the traffic. Here we turn to Google statistics here and we can see which positions get how much traffic.
As we can clearly see the first listing gets about 35% of clicks, second 26%, third about 10% and so if we just look at the keyword we have searched in Google above we can see that that keyword has 2,900 searchers per month. We can guestimate that the first position for "dentist Adelaide" would get roughly 1,015 people clicking into the first website second 725 and so on.
I hope that's has explained a little bit about the numbers of SEO, and why hiring an SEO with a lot of experience and knowledge is always important. They help you get to position one and get you more clients.
A Bit about the Technical Side of SEO
Search engine optimization is a wide array of things working in conjunction with each other to accomplish a specific result on search engines. There a lot of these aspects and they are mainly grouped into two categories On-Page and Off-Page SEO.
On-page SEO
These are some of the steps needed for your website to be a search engine crawler friendly:
Responsive Web Design – First of all you need a responsive website. This is one of the most important factors because at the end of the day the end-user is the most important.
This means it should be fast and able to adjust to all types of devices from tablets, desktops and mobile devices. In fact, since 2015, Google has been penalizing websites that are not mobile-friendly.
With so many people consistently choosing mobile web surfing over the laptop or desktop alternative. We can only see this going in the favor of mobile devices in the perceivable future. Thus, mobile SEO is really crucial for all business owners.
Accessibility -Your site should also focus on accessibility. Meaning your visitors and website crawlers alike should be able to access and understand your website easily.
Site Map – A site map should be used but your general website navigation should be clear and to the point.
On-Page Time – One more factor you should keep in mind is time spent on site, not you but the people visiting your website. If a person visiting your website stays for a decent amount of time meaning they are interested in your content and what you have to say.
Content – Content is and always will be King if you want people to spend time on your site, and especially if you want to rank on Google. This content will have to be optimized but with the right amount of keywords, media, content, LSIs, and links (both inner and outer) and a whole lot more.
Website Speed – Speed is key let's be honest all of the above is useless if no one can load your website or if it takes too long they are going to click back and go to another website. It's always wise to check out everything that you can improve on your website.
Off-Page SEO
This covers everything that was done that's not on your website so your media, articles, and links on other websites linking to yours. This covers everything for social media likes, follows and shares and any other thing you can imagine online that mentions your website.
So How Do You Optimize Your Business For Search Engines?
I have already covered a lot but in all honesty, this is all breadcrumbs compared to what really needs to be done. We haven't even scratched the surface of the most important aspect of SEO and that's keywords. After all, how can you do anything properly if you don't know what people are looking for online?
As you can see keyword research is an absolute must if you want to get started optimizing your website. This is not something most business owners can handle and to tell you the truth it's not for everyone there is a lot of knowledge required. Your best bet is to hire a proper SEO company like SEO Adelaide and focus on what you are good at which is running your business.
Choosing the Right SEO Company for You
So how do you go about choosing an SEO company that's right for you?
Yeah, it's crucial. Hence I segregated actual points to consider. Though, I can also recommend this digital marketing agency SEO One Click.
Check out how a company is doing on the search engine results for what they are targeting.
Look for experience and know-how.
Ask about their previous work and clients how they are doing now.
Compare a few SEO companies for prices and services.
There could be several SEO companies around the world, choosing the right one would make the difference. If your business is set locally, it's a great idea to target it for local-based keywords.
I made a choice few months back for my client's website's SEO going with an SEO service in Lucknow which gave good results in lesser time. My clients are happy, that means a lot to me.
Conclusion
So no matter what type of business you run or operate getting involved in, SEO can benefit you incredibly. So what are you waiting for taking this important step in getting your business out to millions of potential customers?