Creating clean and converting web pages takes a lot of time and research. It's okay if you would like to do the coding from scratch, but do you really have to?
Do you really have that much time? Think about it!
How about using Content Builder tools which create elegant web pages for your website quick and faster. In fact in almost no time which can make you more productive as well.
In this internet world content is everything, whether it is in the form of the text of visual. Writing compelling content is a part of blogging and takes time to make it stand out of the box. But, if the well-written content is not well structured and formatted it won't go anywhere.
This is where content builders like DragDropr have a unique space. DragDropr is basically a SaaS application with extreme usability.
So, here we have come up with the DragDropr review a light-weight and amazing content builder tool creates amazing web pages while having a cup of coffee.
I am not kidding, it really does.
DragDropr Review: Drag & Drop to Create Astonishing WebPages
It is a perfect Website Builder, with loads of features and easy to use. Basically is a tool which can be tried out online as well create the web pages the way you want to.
And if you want to use it on WordPress platform, they have DragDropr WordPress Plugin available as well.
I observed that despite having loads of features it is light and no lag at all, whereas compared to the other page builders.
Customization and User Interface
It has an eye-catching user interface, customization options both on the right and left.
Which makes it more flexible and easier to make the edits and add sections and create the clean code in the backend.
All you need to do it plan your website layout and keep on adding section accordingly by drag and drop.
You can create your landing pages from the scratch by addition section the way you always thought of.
And though the edits can be seen live in the middle of the UI, that makes it much easier to come out with converting websites.
No need to create websites from scratch
Creating and designing the layout of your websites is completely optional.
DragDropr Content builder offers more than 200 pre-designed templates which make the job easier to create a website and see it live on the web in no time.
Because you can use those pre-made templates for your projects and change the text and images.
I never want to create a website from scratch when I can make use of such tools and concentrate more on creating content and promotional activities.
I always believe if investing some money can make me more profits, then why not doing so.
Smarter work is always being acknowledged, and using DragDropr visual content builder certainly would be a smarter move.
Will it hurt the Website SEO?
People are more concerned about SEO optimized websites instead of having too many features incorporated.
And it has always been observed that the more dynamic websites you create through the website builders, it slows down and can hurt the whole website SEO.
On the other hand, as said above, DragDropr creates a clean HTML code for the pages in the backend so it's completely SEO ready.
So, there would be no more hesitation in adding useful features for better conversions.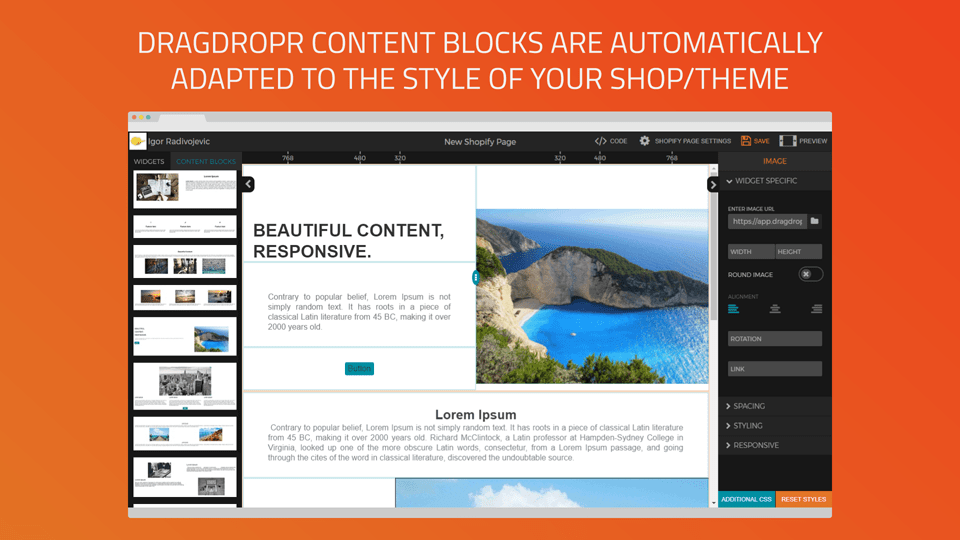 Responsiveness Matters
Having is a responsive website is being very crucial as the giant search engine like Google has announced Mobile-First as a ranking signal.
That means un-responsive will not good for the user-experience so Google will give it a less preference.
The pre-designed templates on DragDropr are completely 100% responsive which can adapt any screen size seamlessly.
And at the same time completely SEO ready, which helps in ranking better.
Is DragDropr Visual Content Builder Compatible?
This visual editor is compatible with almost all platforms. That means it doesn't matter at all on which platform your websites is whether it is on
WordPress,
Shopify
Magento
Lightspeed(E-commerce platform)
DragDropr Chrome Extension (You can customize your website Extension as well).
If that excites you Check Out the 13 mins video to see how to create a website with DragDropr
Pricing: Is DragDropr Affordable?
Despite having so many features, it unbelievable that it is still very affordable.
Basically, as of now, the DragDropr team has segregated the plans in four slots. And that makes it easy to subscribe according to the requirements.
Business Plan – $9 per month
Ultimate Plan – $ 29
Flat Plan – $59
Enterprise Plan – (You have to contact them for the same, it might come with a discounted price)
Although, the subscriptions are completely worth this awesome tool. You can start with the Basic Business Plan which starts right as low as $9/month.
And if you are still in dilemma and want to try out this tool before making a subscription, surprisingly they offer it for a 1-month trial as well.
Which can really amaze and shows how confident they are with their tool.
Check Out DropDrop Visual Content Builder
Final Words on DragDropr Review: Drag and Drop Content Builder
If you always running out of time, and want to focus on creating content and also make it visually appealing. Then you should leave the job on DragDropr.
And as created websites with DragDropr are completely clean coded and SEO, ready then makes it a good option to include on your tool list.
So, are you up to see your first website created on DragDrop up and running, give it a go. Get started and Create websites with no coding skills at all, simple drag and drop.